Summer Shack - The Best Seafood Restaurant in Boston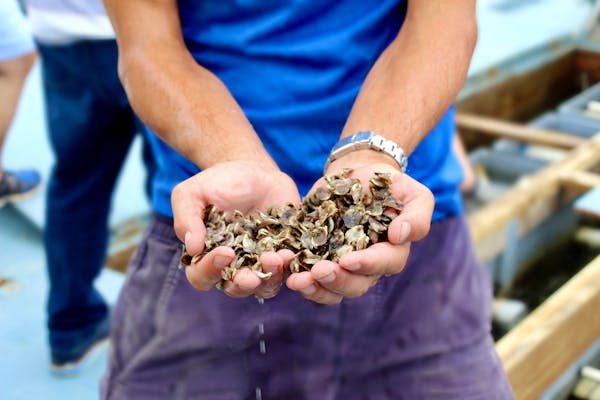 What Makes Summer Shack the Best Seafood Restaurant in Boston?
As a seafood restaurant in New England, we understand that the "best" is a pretty big claim; But with fresh local catches daily, a menu inspired by one of Boston's most highly acclaimed chefs, and a fun casual environment to enjoy it in, we're confident that we can back it up! Our slogan "Food is Love" is where it all stems from, starting with our hardworking fisherman, to our talented chefs and caring staff members, all with a common goal to bring delicious seafood to your table.
Fresh Locally Sourced Seafood Daily
For nearly 20 years, Summer Shack has been Boston's go-to Seafood restaurant- And it's not just because of our award-winning lobster roll or famous pan-roasted lobster dish! We believe good food starts with the ingredients. That's why we have a space on the Boston fish pier and Cape Cod Bay where our seafood manager and his crew hand-select the freshest seafood daily. That foundation is where Summer Shack all began. As Jasper White explains, "Summer Shack is not just a 'restaurant concept"- it is an expression of who I am and what I really like. The menu tells the story of a chef who believes that great food is as much or more about ingredients and where they come from than the cooking techniques and creativity." With this mentality at the root of everything we do, we offer an unparalleled seafood dining experience.
A Fun, Casual & Inviting Experience
Whether you're in the neighborhood for a Red Sox game, strolling the shops on Newbury Street, or looking for a family-friendly restaurant in Boston, Summer Shack is a place where anyone can feel comfortable and enjoy a delicious feast! The environment we create is fun and casual, from our staff, to the menu, to the layout and design of the restaurant. We want you to almost feel like you're digging into a picnic on a warm summer's day. In Jasper's words, "The flavor of our food is elegant, but you need to roll up your sleeves a get a little messy to truly appreciate and enjoy this food." Summer Shack boasts a large raw bar with premium oysters, seasoned grilled fish, signature clambake, and specialty lobsters. While we're of course known for our seafood, we also serve fried chicken, steak tips, and "boardwalk foods" like corn dogs, to suit anyone's taste buds!
Private Event Space
The best part is, it doesn't have to stop at lunch and dinner! Summer Shack offers a private dining space that is perfect for corporate functions, clambakes, cocktail parties, or any other occasion. We can accomodate your groups randing from 10-400 guests. You'll be able to choose from our delicious menu offerings, and we can even add personal touches to make it more special.
Dine with Us at Summer Shack
If you haven't experienced Boston's best seafood restaurant yet, what're you waiting for? We can't wait to serve you! Book a reservation online, or stop by our convenient location in Back Bay today to grab a bite!