The Best Wines to Pair With Oysters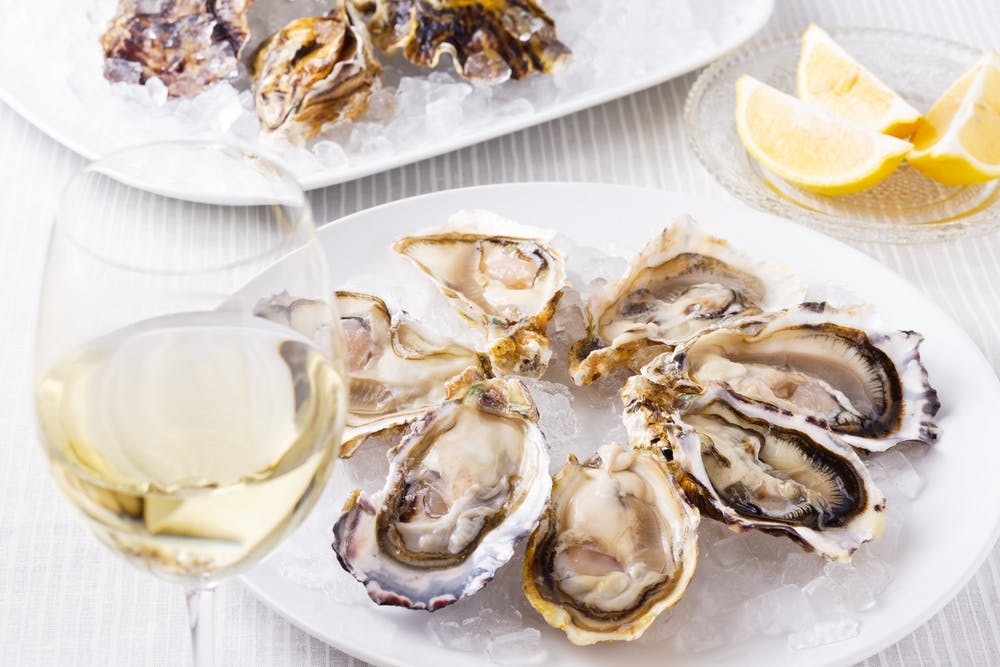 Whether you're headed out to dinner for some delish seafood or hosting guests at your home, knowing how to pair your food with beverages will ultimately make you look like a food connoisseur. If you're an oyster enthusiast looking for just the right beverage to pair with your shellfish, we've got you covered! There are a variety of different wines that will taste delectable with your oysters, but if you want to really exhilarate your tastebuds, check out our recommendations below.
Sauvignon Blanc
Sauvignon Blanc is desirable with any seafood, as it's light, crisp, and heavy on acidity. The hint of lemon flavors and high acidity make them especially good for sipping alongside raw oysters. Pairing your oyster with a Sauvignon Blanc is sure to bring along the "summer vibes," even on the chilliest of fall and winter days.
Muscadet
A muscadet is the perfect pairing for oysters, with a high-acidity yet bone-dry texture. There are plenty of green fruit notes in a muscadet, such as lime, apples, pears, and even lemons. With this tasty wine, you won't even need lemons with your oysters.
Champagne
A classic to pair with seafood, Champagne is a great choice that tastes especially delicious with oysters. Champagnes typically have a yeast, bready flavor that add some depth to the pairing. The bubbles of champagne or a dry sparkling wine also provide a textural contrast against the smooth texture of oysters.
Albariño
This Spanish wine, full of citrus zest and a notable zip, is delectable alongside oysters. The hints of white nectarine, peach, and even sometimes grapefruit really emphasize the feeling of summer. This is a popular pairing with other seafood dishes such as fish tacos and scallops, too.
Fino Sherry
If you like a dry and pale wine, fino sherry is a great pair with oysters. This coastal wine serves some nutty flavors with a light-bodied consistency. You'll find it pairs well with the salt brine and earthy tones of oysters.
Chardonnay
Chardonnay may not be the best choice with raw oysters, but with fried or smoked oysters this is a mouth-watering combination! The creamy style of chardonnay mixed with the creamy dipping sauce for oysters is quite satisfying.
Try a Delicious Wine & Oyster Pairing at Summer Shack
If you're in the mood for seafood and living in the Boston area, head on over to Summer Shack to try our delicious oyster raw bar with one of these tasty wine pairings! We have locations in Back Bay Boston, Cambridge, and Mohegan Sun. Check out our menus or book a reservation today!