Main content starts here, tab to start navigating
Boston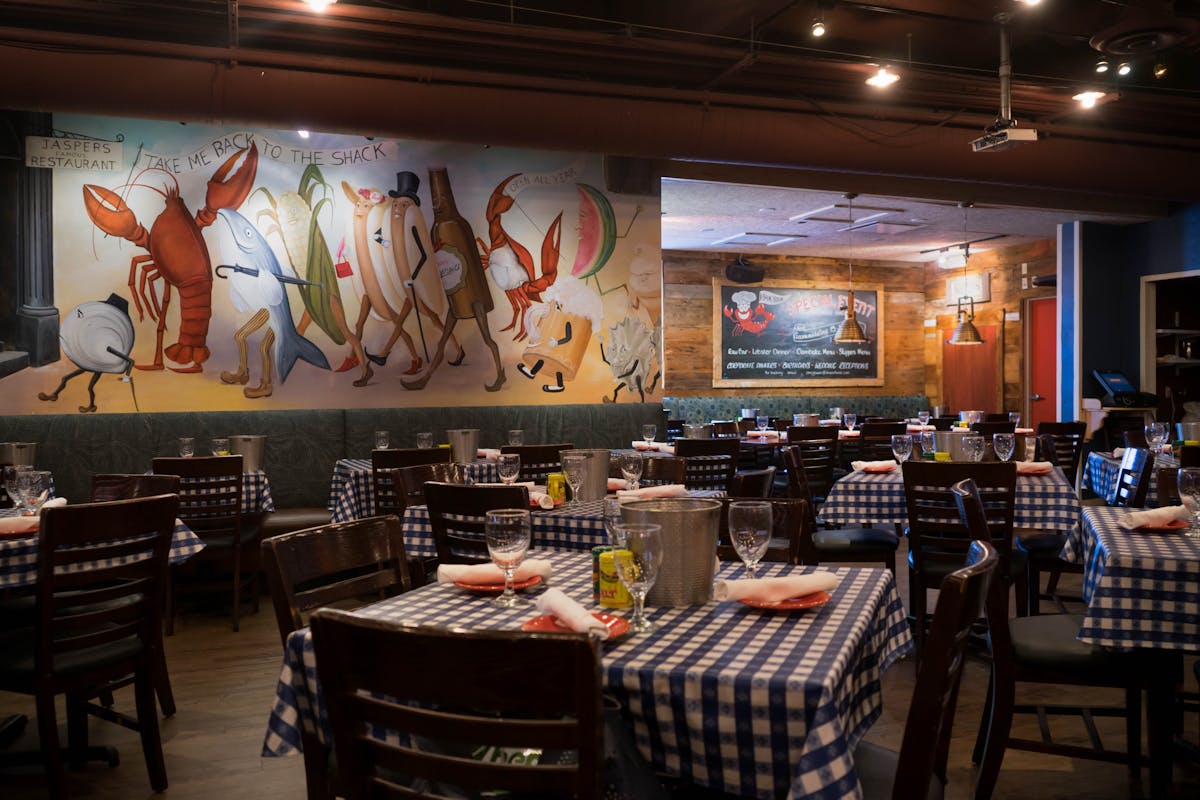 Boston
50 Dalton St.,
Boston, MA 02115
(617) 867-9955
General Manager: Jeff Wiedmayer
Hours of Operation
Monday - Friday: 4pm - 10pm
Saturday: Drag Brunch 11:30am & 2pm | Dinner: 5pm - 10pm
& Sunday 11:30am - 10pm
Get tickets to our Drag Brunch HERE.


Seafood Restaurant in Back Bay Boston
Back Bay Summer Shack has become the place where Red Sox fans, visiting fans and Boston Symphony patrons rub elbows. It's within walking distance to both Fenway Park and Symphony Hall, and it's only three blocks from the finish line of the Boston Marathon. We love the raw bar case Jasper designed which holds 2,000 pieces of shellfish kept fresh in an ideal atmospheric condition. Our shucker, Eladio is a legend around the city of Boston, where he has won almost every shucking competition in town.
Boston's Best Lobster Roll
Our menu features traditional, creative, and ethnic versions of the freshest fish and shellfish in town. This is definitely the place to come eat lobsters when you visit Boston! If you haven't tried Jasper White's famous lobster roll yet, get your bib ready! Our mouth-watering lobster roll is a fan favorite. In addition to seafood, the shack has plenty of kid-friendly dishes and meat options – like Fried Chicken, Burgers, and Steak. Featuring Boston's Best and Largest Raw Bar! Book your reservation to dine with us in Back Bay Boston today.
$5.00 off parking in the adjacent lot when you dine with us.
Menus
Dine Out Boston formerly known as Restaurant Week Boston® is brought to you by the Greater Boston Convention & Visitors Bureau twice a year, providing locals and visitors an opportunity to sample area restaurants at special prices. We are participating March 13th - 24th for a prix fixe menu for Lunch & Dinner, offering some of our favorites at the Shack. Available for Dine In Only (excludes Saturdays).
Make reservations for Cambridge HERE
AND
Make reservations for Boston HERE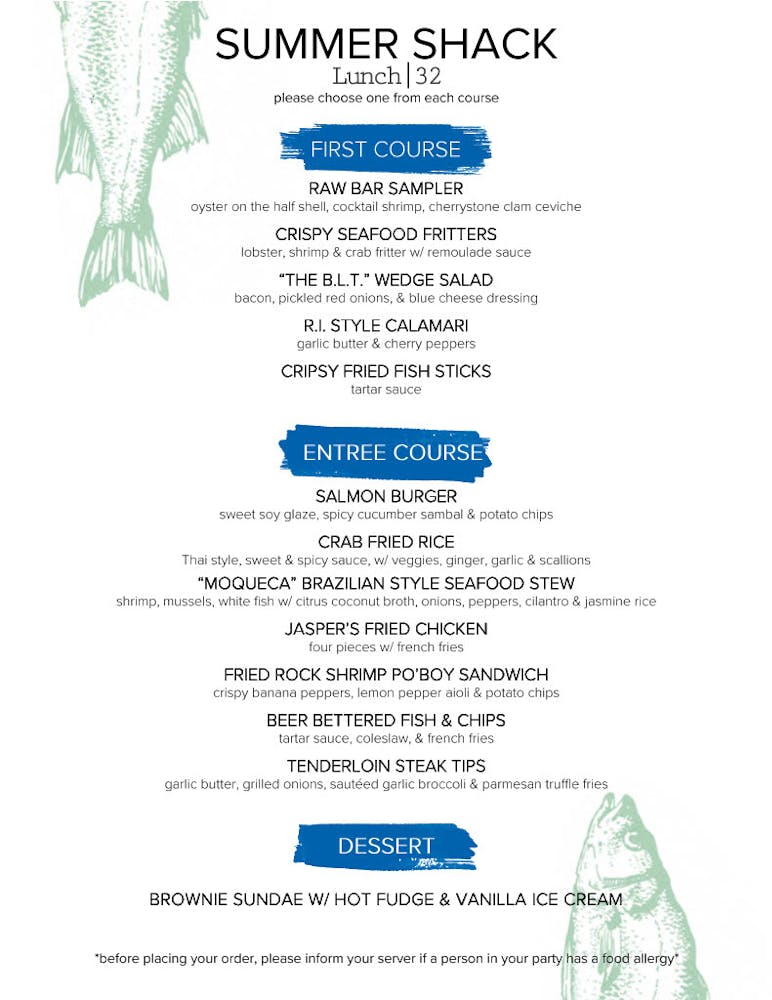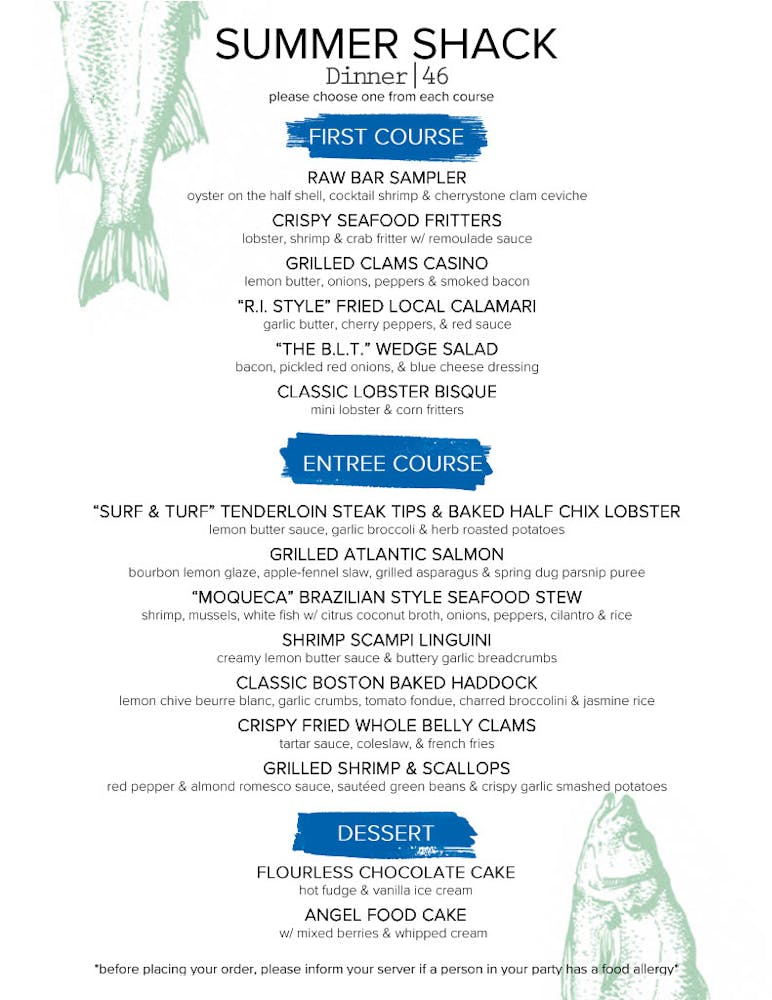 SOUPS & SALADS
Classic New England Clam Chowder

cup $12

bowl $16

Caesar Salad

romaine lettuce, parmesan cheese, & croutons

$14

"The BLT Wedge Salad"

Blue cheese dressing, bacon, cherry tomatoes & pickled red onions

$14

Maine Shrimp & Spinach Salad

Lemon bacon vinaigrette, tomato, radish, & pickled red onion

$15

Roasted Kale & Beet Salad

Quinoa, apple, fennel, dried cranberries,& chickpeas

$14
RAW BAR
JUMBO COCKTAIL SHRIMP

$4

2 OYSTER & TUNA SASHIMI

$12

CHERRYSTONE OR LITTLENECK CLAMS

$3.50

TOWER OF POWER

8 oysters, 8 littlenecks, 4 shrimp, 2 oyster-tuna sashimi

$70
SELECT PREMIUM OYSTERS
CHEBOOKTOOK – NB

mild salinity with plump, smooth meats and a sweet finish.

$3.50

WELLFLEET-MA

deep cups with plump meat, seaweed flavor, briny

$3.50

KATAMA BAY-MA

A clean shell oyster with a mild but very sweet flavor. Grown in the plankton rich waters.

$3.50

DUXBURY-MA

These oysters are medium in size with greenish white shells. They have deep cups with large meat and that is fairly salty in flavor with a clean and lingering finish

$3.50

BOOMAMOTO-MA

These oysters are creamy, petite, and deep cupped, and have a sweet finish that distinguishes them from anything else

$3.50

COTUIT - MA

Moderate brine with a sweet, creamy finish. Plump, firm meats.

$3.50
Griddled Cornbread

molasses butter

$10

Crab Cake

remoulade sauce & coleslaw

$18

Chicken Wings

ginger chile or buffalo style

$17

Mussels

white wine, garlic, and herbs or spicy fra-diavolo

$18

Steamers (1 Lb)

$25

Blistered Shishito Peppers

Lemon herb aioli

$12

1/2 lb "Peel & eat" Steamed Shrimp

steamed in beer and spices, served with remoulade sauce

$16

bacon wrapped scallops

creamed spinach, & lemon mayo

$17

Bang Bang Chicken

sweet & spicy sauce, micro cilantro, & toasted sesame

$16

Pork Carnitas Tacos

Pico de Gallo, avocado, chipotle creme

$15

Grilled Littleneck Clams

garlic butter

$18
Boston's Best Lobster Roll

classic New England style or warm with butter poached lobster

$38

Prime Burger (1/2 lb)

with cheddar or blue cheese

$18

Crab Cake BLT

$20

JW fried chicken sandwich

Served with house made chips

$16

Shack Style Fish Tacos

$17

Shrimp Po'Boy

Remoulade, crispy banana peppers & slaw

$15
SEA
fresh fish & shellfish arriving daily
Classic Shrimp Scampi Linguini

creamy lemon butter sauce.

$26

Grilled Gulf Shrimp

garlic butter, shack coleslaw, & french fries

$26

Shack Lobster Mac

meat from 1lb lobster

$38

Crab Cakes

remoulade, coleslaw, & sweet potato fries

$32

Jumbo Canadian Snow Crab Legs

steamed with sweet corn, OR roasted with garlic & sherry

$65

pan-roasted haddock

roasted mushroom-sherry butter, broccoli & smoked bacon-potato hash

$28

Grilled Atlantic Salmon

apple-fennel slaw, asparagus & parsnip puree

$30

" Surf& Turf" Baked Half Chix Lobster & Steak tips

lemon beurre blanc, garlic roasted kale & herb roasted potatoes

$38

Crispy Fried Redfish Fillets

Guacamole, pico de gallo, grilled kale, black beans & rice

$28

Spaghetti & Clams

Littleneck clams, creamy white wine sauce, & garlic crumbs

$25

"moqueca" brazilian style fisherman's stew

shrimp, mussels, white fish, w/ citrus coconut broth & jasmine rice

$28

grilled local monkfish

roasted red pepper salad, green beans & garlic smashed potatoes

$30

sesame crusted yellowfin tuna

seaweed salad, spicy mayo, tempura veggies, & jasmine rice

$30
FRIED FAVORITES
large plates are served with fries & shack slaw
Whole Belly Clams

app $28

plate $34

Calamari

choice of plain or with peppers & garlic butter

app $17

plate $28

Gulf Shrimp

choice of plain or buffalo style

app $17

plate $28

Fish & Chips

$25
LAND
Jasper's Fried Chicken

four pieces with french fries

$20

Grilled Gulf Shrimp & Tenderloin Steak Tips

Lemon butter, mixed greens & french fries

$32

Tenderloin Steak Tips

Garlic butter, sautéed garlic broccoli & French fries

$34
LOBSTERS
Lobsters In The Rough

new england & canadian hard shell lobsters steamed

1 lb $38

1 1/2lbs $58

2 lbs $88

JASPER'S FAMOUS PAN ROASTED LOBSTER

bourbon, chervil & chives

1 1/2 lbs $65

2lbs $95

WOOD GRILLED LOBSTER

garlic, parsley & buttered crumbs

1 1/2 lbs $62

2 lbs $92

BAKED STUFFED LOBSTER

lemon butter, garlic crumbs & shrimp stuffing

1 1/2 lbs $68

2 lbs $98

ADD A SUMMER SHACK CLAMBAKE FOR ANY LOBSTER

mussels, clams, corn, potatoes, egg, chorizo

$15
KID'S MENU
Kids' Fried Chicken

two pieces served with french fries & a brownie for dessert

$15

Kids' Shells & Cheese

served with french fries & a brownie for dessert

$15

Grilled Florida Gulf Shrimp

served with french fries, & a brownie for dessert

$15

Cornmeal Fried Fish Fingers

served with french fries, & a brownie for dessert

$15

Hamburger or Cheeseburger

served with french fries, & a brownie for dessert

$15
SIDES
French Fries

$8

Coleslaw

$6

Corn on the cob

$6

Shells & Cheese

$10

Potato Chips

$5

Grilled Asparagus

$8

Herb Roasted Potatoes

$6

Jasmine Rice

$6

Sweet Potato Fries

$8

Roasted Mushrooms

$10

Fried Pickles

$10

Garlic Broccoli

$8
Desserts
Cheesecake Brownie Sundae

Served with Vanilla Ice Cream

$8

Key Lime Pie

$8

Flourless Chocolate Cake

Served with Vanilla Ice Cream

Coconut Custard Pie

$8

Pecan Pie

$8
Draft Beer
Truly Wild Berry Seltzer

pint $7

stein $14

Harpoon IPA

pint $7

stein $14

Allagash White

pint $8

stein $16

Sam Lager

pint $7

stein $14

Sam Adams Seasonal

pint $7

stein $14

Coors Light

pint $6

stein $12

Guinness

pint $8

Wormtown "Be Hoppy" IPA

pint $8

stein $16

Sharktracker

pint $8

stein $16

NARRAGANSETT

pint $6

stein $12

Fiddlehead IPA

pint $8

Stein $16
BOTTLED BEER
Heineken

$7

Blue Moon

$6

Bud Light

$6

Budweiser

$6

Corona

$7

Corona Light

$7

Michelob Ultra

$6

Miller Light

$6

St Pauli Girl (non-alcoholic)

$5
WHITE WINE
Alvarhino, Floral

Portugal

glass $12

bottle $46

Pinot Grigio,Di Leandro

Italy

glass $12

bottle $48

Sauvignon Blanc, Wildsong

Hawke's Bay, NZ

glass $12

bottle $46

Riesling, Anheausar

Germany

glass $13

bottle $52

Chardonnay, Boen

California

glass $13

bottle $52

Chateau Campuget Rose

France

glass $12

bottle $46

Verdejo, Menade

Spain

glass $14

bottle $55
RED WINE
Pinot Noir, Pavette

Central Coast, CA

glass $13

bottle $52

Super Tuscan, Perolla

Italy

glass $12

bottle $46

Malbec, Altos Del Plata

Argentina

Glass $12

Bottle $46

Cabernet Sauvignon, Requiem

Washington

glass $14

bottle $55
BUBBLES
Prosecco, Lamberti

Italy

split $12

bottle $46
SHACK MOJITO

Barcadi rum, muddled mint, fresh lime, & a splash of soda. *AVAILABLE TRADITIONAL, COCONUT OR PEACH

$13

SHACK LEMONADE

Pink lemonade flavored vodka, fresh lemon juice, a splash of cranberry, sprite & lemonade

$12

Cupids' Mimosa

Gran Marnier, Prosecco, Cranberry

$14

Peppermint Martini

Mulholland Vodka, Creme de menthe, Frangelico, cream

$14

HOUSEMADE RED SANGRIA

with fresh fruit, orange juice, triple sec & peach schnapps

glass $12

carafe $32

Mardi Gras Hurricane

Bacardi Rum, Goslings Dark Rum, Peach Puree, OJ, Lime

$15

Negroni

Bombay Sapphire Gin, Carpano Antica Vermouth, Martini & Rossi Bitter Liqueur

$15

Espresso Martini

Double Espresso Vodka, Kahlua, Bailey's, Coffee

$16
MARGARITAS
SHACK MARGARITA

El Jimador, Triple Sec, House Sour Mix

$13

BIG BUCKS MARGARITA

El Jimador, Grand Marnier & house sour mix

$15

Spicy Pomegranate Margarita

Ghost Pepper Infused Tequila, Pomegranate, House Sour

$15
TIKI DRINKS
LOBSTER TRAP

Gin, St. Elder, lime juice, orange juice & ginger ale

$13

MAI TAI

Bacardi Coconut Rum, Cointreau, Orgeat Almond Syrup, fresh lime juice & Goslings rum float

$13

PINEAPPLE CHI CHI

Pineapple infused Vodka, Coco Lopez, pineapple juice & Angostura Bitters

$13
BOWLS TO SHARE
AKU AKU SCORPION BOWL

Aku aku's original recipe

glass $12

bowl $27

TWISTED MERMAID BOWL

Barcadi rum, vodka, Blue Curacao, fresh lime juice, Orgeat Almond Syrup & pineapple juice

$19

TRULY BERRY BOWL

Vodka, St. Elder, fresh lime juice, mint, raspberry puree & Truly Berry Seltzer

$19
BLOODIES
"BUILD YOUR OWN" BLOODY

Customize on our BYO bloody card!

JASPER'S CLASSIC

Traditional bloody mary with Titos vodka & an old bay rim

$14

THE MEGA MARY

It's bloody insane! served in a 32 oz stein glass, and topped with some of everything- 1/2 chilled lobster, 4 cocktail shrimp, 1/2 lobster roll/ fried chicken & candied bacon skewer, south bay blonde oyster, celery, olives & lemon

$90
BUBBLES
MIMOSA

La Marca prosecco, & fresh orange juice

$14

PEACH BELLINI

A classic refresher- white peach puree & prosecco

$14
COCKTAILS
SHACK SANGRIA

House-made red sangria

$12

ESPRESSO MARTINI

Vanilla vodka, Kahlua coffee liqueur, espresso & simple syrup

$13

BLAME IT ON THE APEROL

Hendricks gin, Aperol, lemonade & a splash of soda

$14
Served from 1130am-3pm every Saturday & Sunday!
Brunch Specials
Seafood Benedict Trio

Lobster, crab cake, smoked salmon, poached egg, hollandaise

$32

Shack Lobster Hash

Baked half chix lobster, bacon hash, hollandaise & poached egg

$26

The Hangover Brunch Burger

Prime burger, avocado, cheese, ham, bacon, fried egg, crispy onions

$20

Country Fried Chicken & Biscuits

Creamy white sausage gravy, two eggs any style & homefries

$18

Buffalo Chicken Mac

Fried chicken, buffalo sauce, blue cheese & buttery bread crumbs

$22

Avocado Toast

Sunny side up egg, bacon & spicy aioli

$14

Cap'n Crunch Chicken & Waffles

Hot honey glaze & brunch potatoes

$18

Eggs Benedict

Smoked ham, english muffin, poached egg, hollandaise sauce

$18
Brunch Sides
French Toast

$9

Candied Bacon

$8

Brunch Potatoes

$8

Hushpuppies

$9

Bacon & Sausage Hash

$10

Buttermilk Pancakes

$10

Truffle Fries

$9