Main content starts here, tab to start navigating
Boston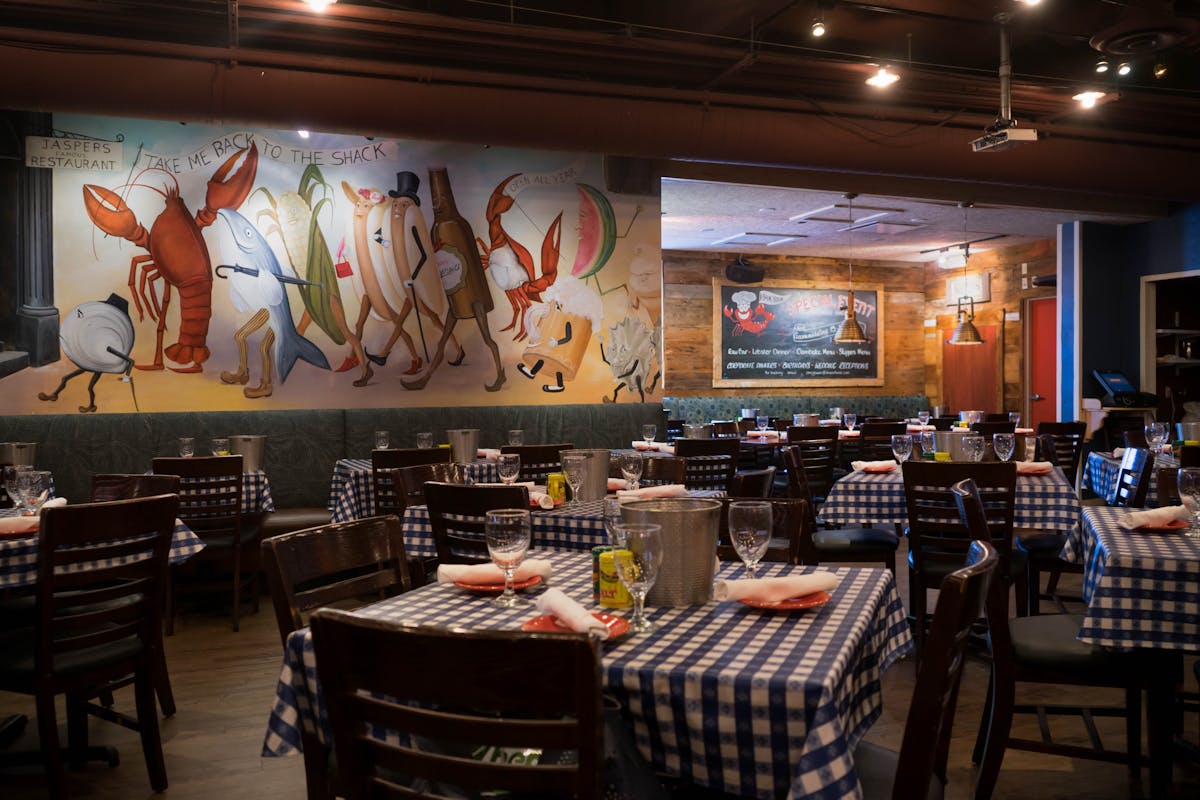 Seafood Restaurant in Back Bay Boston
Back Bay Summer Shack has become the place where Red Sox fans, visiting fans and Boston Symphony patrons rub elbows. It's within walking distance to both Fenway Park and Symphony Hall, and it's only three blocks from the finish line of the Boston Marathon. We love the raw bar case Jasper designed which holds 2,000 pieces of shellfish kept fresh in an ideal atmospheric condition. Our shucker, Eladio is a legend around the city of Boston, where he has won almost every shucking competition in town.
Boston's Best Lobster Roll
Our menu features traditional, creative, and ethnic versions of the freshest fish and shellfish in town. This is definitely the place to come eat lobsters when you visit Boston! If you haven't tried Jasper White's famous lobster roll yet, get your bib ready! Our mouth-watering lobster roll is a fan favorite. In addition to seafood, the shack has plenty of kid-friendly dishes and meat options – like Fried Chicken, Burgers, and Steak. Featuring Boston's Best and Largest Raw Bar! Book your reservation to dine with us in Back Bay Boston today.
$5.00 off parking in the adjacent lot when you dine with us.
Menus
RAW BAR
JUMBO COCKTAIL SHRIMP

$4

2 OYSTER & TUNA SASHIMI

$12

CHERRYSTONE OR LITTLENECK CLAMS

$3.50

TOWER OF POWER

8 oysters, 8 littlenecks, 4 shrimp, 2 oyster-tuna sashimi

$70
SELECT PREMIUM OYSTERS
South Bay Blonde

Raised on the floor of cape cod, they feature beautiful deeps cups and caramel colored rigid shells. Their flavor profile is pleasantly sweet and briny. They are perfectly balanced with a meaty bite and smooth finish

$3.50

Chebooktook-NB

This is an Atlantic Northeast oyster and with medium cups and uniform brown shells. They have a mild salinity with plump, smooth meats and a sweet finish.

$3.50

Dennis-MA

This farm raised sustainable oyster is grown in the waters of the Cape Cod bay. They are impeccably clean with a distinct deep cupped shell and a sweet briny finish

$3.50

Boomamoto- Ma

Golf ball-sized oysters that grow as a deep as they are long, full of meat with a briny taste. Cape cod's homage to a Japanese style west coast oyster

$3.50

MOOKIEMOTO-ME

Strong salinity up front that eases into a noticeable sweet cucumber finish

$3.50
all served with an assortment of luxury spices, sourdough bread, whipped butter, red pepper vinaigrette & pickled peppers
SARDINES
SPAIN- IN SPICED SAUCE 4.2 OZ

$16

PORTUGAL- IN SPICED OIL 3.2 OZ

$26

SPAIN- IN OLIVE OIL 4.73 OZ

$18

PORTUGAL- IN OLIVE OIL 3.2 OZ

$26

SPAIN- IN ESCABECHE 4.2 OZ

$15
SCALLOPS
SPAIN- IN VIERA SAUCE 3.9 OZ

$26
ANCHOVIES
SPAIN- A LA BASQUE, OLIVE OIL 4.73 OZ

$38

SPAIN- CANTANBRIAN, OLIVE OIL 1.73 OZ

$23
MUSSELS
SPAIN- IN ESCABECHE 4 OZ

$20
TUNA
PORTUGAL- VIRGIN OLIVE OIL, 4,23 OZ

$26

SPAIN- ORGANIC OLIVE OIL 4 OZ

$24
MACKEREL
PORTUGAL- IN SPICED OIL 4.4 OZ

$22

SPAIN- IN ORGANIC OLIVE OIL 4.73 OZ

$18
RAZOR CLAMS
SPAIN- IN OLIVE OIL 4 OZ

$20
SQUID
SPAIN- IN AMERICAN SAUCE 4.1 OZ

$14
Griddled Cornbread

molasses butter

$10

Classic New England Clam Chowder

$11

Crab Cake

remoulade sauce

$18

Bang Bang Chicken

sweet & spicy sauce, micro cilantro, & toasted sesame

$16

Mussels

white wine, garlic, and herbs or spicy fra-diavolo

$18

Chicken Wings

ginger chile or buffalo style

$17

Steamers (1 Lb)

drawn butter

$25

Grilled Littleneck Clams

garlic butter

$18

Crab Fried Rice

Thai style, sweet & spicy sauce, with ginger, garlic, & scallions

$18

Lobster Potstickers

Citrus soy & ginger dipping sauce

$16

Sweet Corn Fritters

w/ Maple Syrup

$12

Lobster Flatbread

white sauce, ricotta, lemon & herbs

$24

Lobster Bisque

sherry & cream

$16
SALADS & SANDWICHES
Mixed Greens

w/ house vinaigrette

$12

Caesar Salad

romaine lettuce, parmesan cheese, & croutons

$14

BLT Wedge Salad

bacon, iceberg lettuce, tomato & bleu cheese

$14

Lobster Roll

new england style, or warm with butter

$36

Shack Style Fish Tacos

Salsa Fresca, & Citrus Slaw

$17

Beachside Fish Sandwich

remoulade sauce

$16

JW Fried Chicken Sandwich

classic or buffalo style

$16

Prime Cheeseburger

blue cheese or cheddar (add bacon +2)

$18
LARGE PLATES
fresh fish & shellfish arriving daily
Shack Lobster Mac

meat from 1lb lobster w/ toasted garlic crumbs

$36

pan-roasted haddock

roasted mushroom-sherry butter, broccoli & jasmine rice

$28

Grilled Atlantic Salmon

lemon maple glaze, citrus fennel apple slaw, asparagus, & roasted potatoes

$28

Grilled or Fried Gulf Shrimp

garlic butter, shack coleslaw, & french fries

$26

Double Crab Cake

remoulade, coleslaw, & sweet potato fries

$32

"Surf & Turf" Grilled Shrimp & Steak Tips

Grilled Onions, Garlic Butter & Fries

$36

Classic Shrimp Scampi Linguini

creamy lemon butter sauce.

$26

Whole Belly Clam Plate

lemon tartar sauce, coleslaw & fries

$36

Top Sirloin Steak Frites

creamy peppercorn sauce & truffle fries

$38

Fried Local Calamari

plain w/ red sauce, coleslaw & fries or R.I. style

$28

Cape Cod Fish & Chips

tartar sauce, coleslaw & fries

$24

Jasper's Fried Chicken

four pieces, fried to order, w/ fries

$18
LOBSTERS
LOBSTERS IN THE ROUGH

new england & canadian hard shell lobsters steamed

1 lb $36

1 1/2lbs $58

2 lbs $85

JASPER'S FAMOUS PAN ROASTED LOBSTER

bourbon, chervil & chives

1 1/2 lbs $65

2lbs $95

WOOD GRILLED LOBSTER

garlic, parsley & buttered crumbs

1 1/2 lbs $62

2 lbs $92

BAKED STUFFED LOBSTER

lemon butter, garlic crumbs & shrimp stuffing

1 1/2 lbs $68

2 lbs $98

ADD A SUMMER SHACK CLAMBAKE FOR ANY LOBSTER

mussels, clams, corn, potatoes, egg, chorizo

$16

SNOW CRAB LEGS

1.5 lb jumbo canadian snow crab legs, steamed or pan roasted with garlic & sherry

$65
KID'S MENU
Kids' Fried Chicken

two pieces served with french fries & a brownie for dessert

$15

Kids' Shells & Cheese

served with french fries & a brownie for dessert

$15

Grilled Florida Gulf Shrimp

served with french fries, & a brownie for dessert

$15

Cornmeal Fried Fish Fingers

served with french fries, & a brownie for dessert

$15

Hamburger or Cheeseburger

served with french fries, & a brownie for dessert

$15
SIDES
Herb Roasted Potatoes

$10

Roasted Mushrooms

$10

Roasted Kale

$10

Garlic Broccoli

$10

Corn on the cob

$6

Jasmine Rice

$8

Fried Pickles

$12

Shells & Cheese

$10

Sweet Potato Fries

$10

French Fries

$10

Potato Chips

$5

Coleslaw

$6
Desserts
Brownie Sundae

Served with Vanilla Ice Cream

$10

Key Lime Pie

$10

Pumpkin Pie

$10

Coconut Custard Pie

$10

Pecan Pie

$10
TIKI DRINKS
MERMAID DIVE

havana club anejo rum, housemade allspice honey, lime juice, orange juice & angostura bitters

$14

MAI TAI

barcardi, goslings, dry curacao, lime juice & orgeat almond syrup

$15

BIG FISH ENERGY

rittenhouse rye, cossart gordon 5yr madiera, angostura bitters, lemon juice, housemade allspice honey

$15

JUNGLE BIRD

goslings, red bitter, pineapple juice, lime juice, simple syrup

$15

SIXTH FROM THE SUN

bombay dry gin, falernum, orgeat almond syrup, lemon juice & mango puree

$15

SINGING BEACH

deep eddy vodka, pitu cachaca, giffard creme de fruit de la passion liqueur, & lemon juice

$15

ISLAND HOPPING

el jimador tequila, mezcal, apricot liqueur, TBT cucumber bitters, lime juice & tamarind puree

$16

PAINKILLER

plantation OFTD, plantation stiggins pineapple rum, coco lopez, pineapple juice & orange

$15
BOWLS TO SHARE
AKU AKU SCORPION BOWL

Aku aku's original recipe

glass $12

bowl $27

PLAYA DEL REY

ghost tequila, grapefruit juice, lime juice, mint, simple syrup

$34

TREASURE CHEST

mulholland gin, elderflower liqueur, lemon juice, mint, simple, club soda

$28
Draft Beer
Truly Wild Berry Seltzer

pint $7

stein $14

Harpoon IPA

pint $7

stein $14

Allagash White

pint $8

stein $16

Sam Lager

pint $7

stein $14

Sam Adams Seasonal

pint $7

stein $14

Coors Light

pint $6

stein $12

Guinness

pint $8

Wormtown "Be Hoppy" IPA

pint $8

stein $16

Sharktracker

pint $8

stein $16

Fiddlehead IPA

pint $8

Stein $16

NARRAGANSETT

pint $6

stein $12
BOTTLED BEER
Heineken

$7

Blue Moon

$6

Bud Light

$6

Budweiser

$6

Corona

$7

Corona Light

$7

Michelob Ultra

$6

Miller Light

$6

SAM ADAMS (N/A JUST THE HAZE)

$8
WHITE WINE
Alvarhino, Floral

Portugal

glass $12

bottle $46

Pinot Grigio,Di Leandro

Italy

glass $12

bottle $48

Sauvignon Blanc, Wildsong

Hawke's Bay, NZ

glass $12

bottle $46

Riesling, Anheausar

Germany

glass $13

bottle $52

Chardonnay, Boen

California

glass $13

bottle $52

Chateau Campuget Rose

France

glass $12

bottle $46

Verdejo, Menade

Spain

glass $14

bottle $55
RED WINE
Pinot Noir, Pavette

Central Coast, CA

glass $13

bottle $52

Malbec, Altos Del Plata

Argentina

Glass $12

Bottle $46

Super Tuscan, Perolla

Italy

glass $12

bottle $46

Cabernet Sauvignon, Requiem

Washington

glass $14

bottle $55
BUBBLES
Prosecco, Lamberti

Italy

split $12

bottle $46