3 Different Ways to Eat Lobster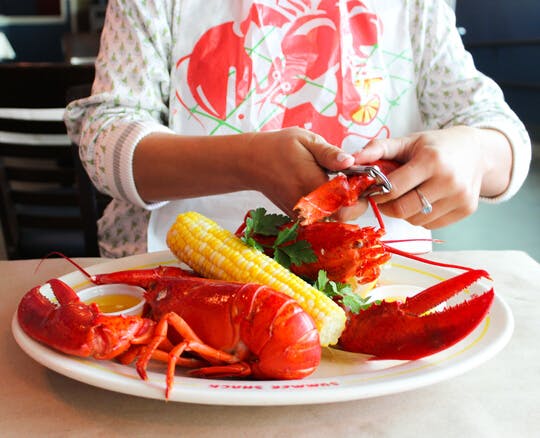 Lobster is well-known in the culinary world as one of the finest kinds of seafood to serve. When freshly caught and prepared, the meat is sweet and tender, pairing well with a variety of sauces, sides, and even other proteins. If you've ever had lobster, chances are you've enjoyed it in one of the many classic recipes: steamed with melty butter, a creamy lobster roll, or atop a delicious steak for an elegant surf-and-turf. If you're looking for new dishes to enjoy this delicacy, we have you covered with three incredible and tasty new ways to eat lobster.
1. Lobster Risotto
Lobster risotto is a delicious way to get the delightful flavor of lobster subtly. This dish is much more nuanced than a straightforward lobster tail dish. A great seafood chef will use the shells and "leftovers" from the lobster to create a lobster stock – rich and flavorful. They'll then use that stock for cooking the risotto, adding steamed lobster pieces into the mix at the end for a warm and hearty dish.
Aside from the primary lobster flavoring, the chef will also likely add in a few extra flavors to enhance the dish's profile. Look for things like fresh arugula, cheese, full cream, or more seafood.
2. Paella
There are many varieties of paella, the traditional Spanish rice dish made for sharing. An authentic paella may have rabbit, chicken, snails, or chorizo, but seafood paella is also incredibly popular. Most seafood paellas won't include lobster – but that doesn't mean it doesn't belong there! In fact, lobster is a natural accompaniment to other seafood in paella, like shrimp, mussels, squid, and clams. Adding lobster adds another level of flavor to the dish, enhancing the savory flavors of saffron and other spices.
3. Jasper's Famous Pan Roasted Lobster
If you're ready for a real treat, it doesn't get much better than a Pan Roasted Lobster. Cooked with bourbon, chervil & chives, this mouthwatering dish is sure to satisfy even the toughest critics. There's a reason it's called "Jasper' Famous" Pan Roasted Lobster!
Book a Reservation at Summer Shack
If you're ready to get adventurous and try a new way to eat lobster, check out the menu at Summer Shack. You can't go wrong with Jasper's Famous Pan Roasted Lobster, or the classic lobster roll! We specialize in fresh, flavorful dishes direct from the ocean, so you can get a taste of some of the best ingredients around. Book a reservation today!