National Lobster Day: September 25th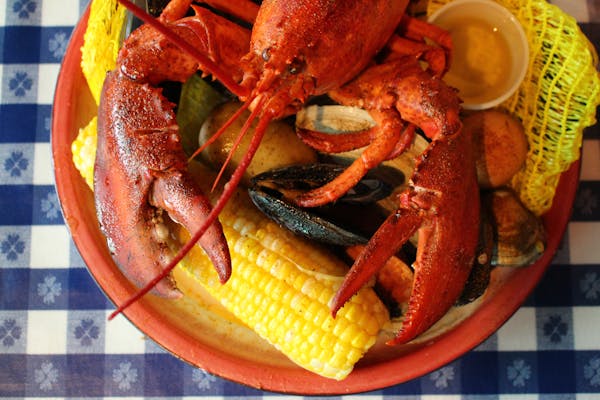 The sun may be setting on the summer months, but that doesn't mean that lobster season is over just yet! While many people think of these delicious crustaceans as a summer treat, the autumn days bring a firmer and meatier lobster that is just as tasty. Plus, did you know that National Lobster Day is September 25th? This is the 2nd day of the year dedicated to lobsters, as the first celebration is at the start of summertime harvesting on June 15th. Whether you prefer your lobster dripping in butter or between the bread with some mayonnaise, it's a good excuse to enjoy your favorite lobster dish one last time this season!
Fun Facts About Lobster
Before we dive in, we wanted to share some shell-shocking facts about these interesting creatures!
Lobsters aren't red- Although lobsters are bright red when they hit the table, they're actually a green or yellow color in their natural habitat. On a rare occasion, you may even find a bright blue lobster!

They taste with their legs & chew with their stomachs- Did you know that lobsters use chemosensory leg and feet hairs to identify their food? They then use their stomachs to breakdown food using the gastric mill, which is similar to a set of teeth on their stomachs.

They're cannibals- If food is scarce, lobsters will resort to eating small lobsters.

Lobsters can regrow limbs- If they lose a claw or leg, they have the ability to regenerate it. Although it would take up to 5 years to regrow a limb of the same size, it is possible.

They used to be served in prison- At one time, people were embarrassed to eat lobsters because they were a "poor man's food." Can you imagine?!
Celebrating National Lobster Day at Summer Shack
Don't put away the bibs and butter just yet, there's still plenty of lobsters to crack into! With their big day coming up next week, we've planned a special lobster-filled week to celebrate. We're giving away 5 of Summer Shack's fan favorite lobster dishes each night of the week leading up to September 25th!
Lobster Roll: Not all lobster rolls are made the same, and Jasper White spent countless hours perfecting this recipe to make our lobster roll one of a kind. The secret to what makes his lobster roll different is in the way he cooks it, and the unique dressings. Checkout our blog to figure out his secret for the perfect lobster roll!
Lobster Pot Stickers: Served with citrus soy and a ginger dipping sauce, you can't go wrong with our lobster pot stickers! Perfect as a shareable for the table or a small plate to yourself.
Lobster Mac n Cheese: Enjoy our delicious lobster mac with meat from a 1lb lobster!
Pan Roasted Lobster: If you haven't tried Summer Shack's famous pan roasted lobster yet, what're you waiting for? This mouth-watering dish is a fan favorite!
Seafood Feast: We can't think of a better way to celebrate National Lobster Day than with a delicious feast! On September 25th, one lucky winner will get to enjoy our delicious seafood feast.
We invite you to join us in celebrating National Lobster Day all week at Summer Shack, as we giveaway 1 of our favorite lobster dishes each night, Sept 21-25th! Book a reservation at our seafood restaurant in Boston or Cambridge, or stop by our pop-up in Harvard Square. Our menu is also available for takeout or delivery.